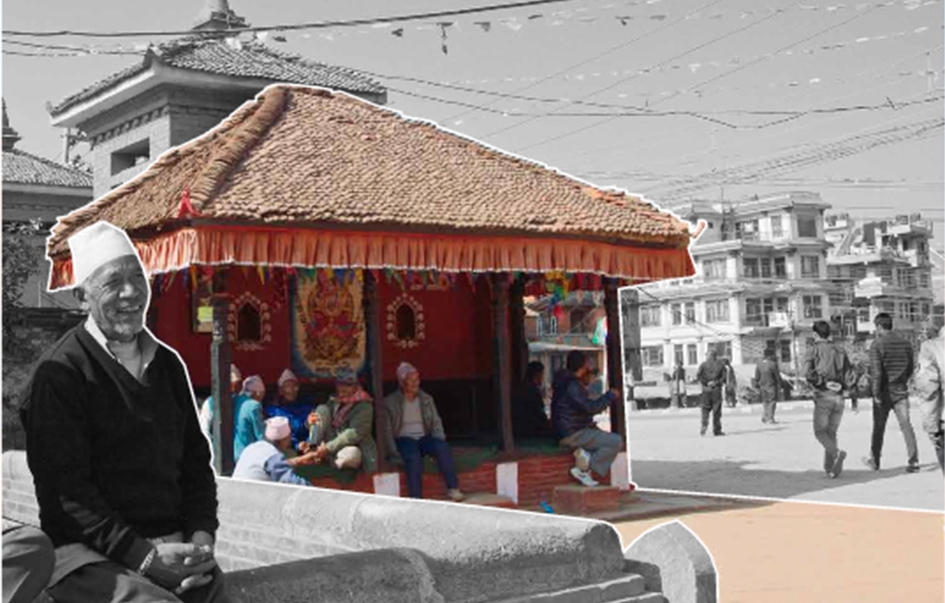 The 2015 Nepal earthquakes were a reminder of the vulnerability of urban settlements to seismic risks, and the value open spaces play in mitigating those risks; open spaces and the infrastructure that support them are critical for disaster preparedness.
Nepal is one of the most densely populated mountain regions on the planet, with a population close to 30 million. In the Kathmandu Valley, rapid urbanization is threatening open spaces through encroachment and a lack of provision in new development. As this trend increases, the vulnerability to disaster rises.
In a disaster, access to basic infrastructures, such as safe drinking water, is crucial. In the context of the Kathmandu Valley, where piped water connections are not available to each household, Paatis are a place where many people access drinking water. Paatis are small, public, open-air pavilions that provide shelter from the rain and sun, and are a place to meet, eat and participate in community activities. Found on almost every street corner of the Kathmandu Valley, Paatis are traditionally managed by local cooperatives and have the potential of supporting communities in times of disaster.
PrepHub Nepal is an adaptive re-use innovation that addresses disaster preparedness by supporting the role of existing Paatis as public space anchors. This research investigates embedding technology into Paatis with the intention to enhance their public service function, providing infrastructure that can help improve the disaster resilience of the community while simultaneously tackling issues of everyday life.
By grafting onto existing open space infrastructure of social and cultural significance, the operation of PrepHubs by local stakeholders reinforces the role communities themselves play in disaster preparedness, and concentrates that role at a public space node.
The Urban Risk Lab in partnership with Kathmandu based NGOs, Lumanti Support Group for Shelter, and the Environment and Public Health Organization (ENPHO) is currently piloting the first PrepHub in Thecho, a settlement on the south side of the Kathmandu Valley experiencing severe water scarcity. The pilot embeds a small-scale community-managed water system into an existing Paati, allowing a local co-operative to operate a small enterprise selling water.
Awards
Lafarge-Holcim Foundation Acknowledgment Prize 2017
UN Risk Awards Finalist 2017
Project Media