Postdoctoral associate Piyush Chaunsali talks about his association with Tata Center as he heads back to India to join IIT-Madras as Assistant Professor in the Department of Civil Engineering. 
You're heading back to India after 10 years to take up a faculty position at IIT Madras. What's going through your mind as you wrap up one chapter of your life and start another?
Starting a new chapter of my life is exciting as well as challenging. An opportunity to teach and carry out research at one of the top universities in India is exciting in and of itself. At the same time, the responsibility of educating and mentoring young minds makes the job a challenging one. I am looking forward to working with my students to solve the current challenges in the area of infrastructure sustainability.
Can you describe your role at IIT-Madras?
I will be joining as an Assistant Professor in the Department of Civil Engineering at IIT Madras. My research will focus on sustainability and durability of infrastructure materials such as concrete, masonry etc. I aim to reduce the carbon footprint of building materials by designing novel and low energy processing routes to valorize industrial byproducts.
How would you describe your time working at the Tata Center here at MIT?
Last two and half years at MIT Tata Center have been very fruitful from the viewpoint of understanding socioeconomic and environmental challenges faced by developing countries such as India. I am grateful to Dr. Rob Stoner and remaining members of Tata Center for offering a great collaborative environment, where people from different backgrounds work together towards a common goal. I am fascinated by the vision of Tata Center of having a positive impact on developing economies through innovation. As a Tata Center affiliate here at the Center, I had the rare opportunity to meet Mr. Ratan Tata a few years ago, which was quite awe-inspiring.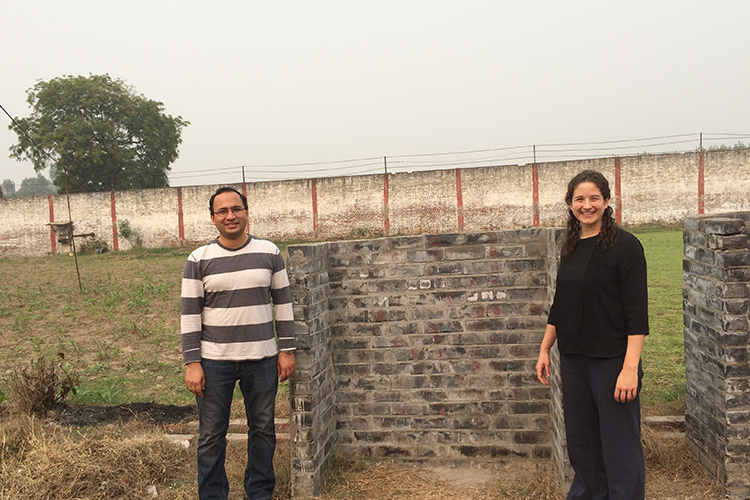 The course taught by Dr. Chintan Vaishnav has been a great resource in offering tools to tackle challenges faced by resource-constrained societies. A cohort of bright minds working together to make a difference in the lives of millions of people in the developing world is a constant source of joy and inspiration for me. I wish MIT Tata Center very best in achieving its goals.
What are some of your favorite memories or experiences from the Tata Center that you will be taking with you back to India?
The mission of Tata Center to take innovation in science and technology to resource-constrained communities has been a key takeaway for me. Working on Tata Center projects here at MIT and in India, I've learned that involvement of all stakeholders through the lifecycle of a project is vital to its success. Having aligned interests with the Center, I will be working on infrastructure sustainability that has the potential of having a positive impact in India.
What are you looking forward to the most in your role as faculty at IIT-Madras?
I am looking forward to working with young and curious minds in India to try and solve some of the most challenging problems in India and the developing world. Teaching innovation through cutting-edge research will be one of my key objectives as faculty at IIT-Madras.