Written by Alexi Taylor Ko and Angeliki Diane Rigos

Written by Alexi Taylor Ko and Angeliki Diane Rigos
About 540 million years ago, during the Cambrian period, the earth experienced a rapid transformation: oxygen levels increased, the ozone layer formed, and habitats diversified. These shifts enabled an explosive diversification of lifeforms.
At the third annual Tata Center Symposium, keynote speaker Nandan Nilekani, Chairman of Infosys, a global consulting and IT services company, pointed to the Cambrian Period as a strong and successful framework for developing innovation rapidly at scale in his talk "A Cambrian Approach to Sustainable Development."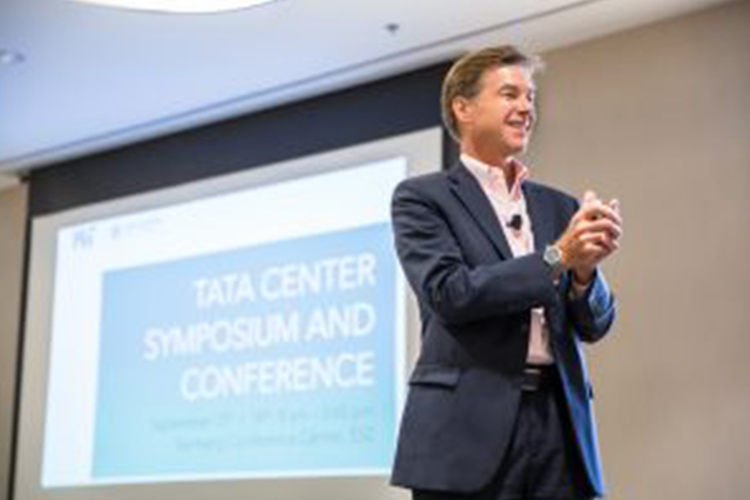 Nilekani stressed the increasing importance of digital platforms and creation of networks for solving social issues. He believes that highly scalable, highly flexible, as well as highly data-driven and open source platforms will be the key to empowering people and accelerating societal growth. He proposed a societal platform that would align existing networks for scalability, enable diverse contextual innovations, and make scarce resources abundant.This type of platform is used in his project the EKStep Mission, which aims to improve literacy and numeracy by increasing access to learning opportunities for 200 million children in India by 2020. Nilekani concluded, "We can use breakthrough technology to solve the problems of billions of people."
Distinguished guests from India, seasoned entrepreneurs, members of NGO's, as well as vital partners of the Tata Center gathered to discuss the question, "Does the developing world need a new model for entrepreneurship?"
This dialogue was fueled by excellent questions from the audience as well as MIT faculty and staff moderators.
The Symposium continued with discussions in four panels on different perspectives of entrepreneurship: the social entrepreneurship perspective, the institutional perspective, the private sector perspective, and the practitioner perspective.
These diverse panelists included MIT alumni, as well as experts and leaders from NGO's and companies, such as the Foundation for Innovation and Social Entrepreneurship (FISE), Cummins India, Deshpande Foundation, Rockefeller Foundation, Shell Foundation, SELCO Foundation, and Off Grid Electric.
Manoj Kumar, a Senior Advisor of the Tata Trusts and the CEO of FISE, explained, "There is a fundamental difference between social entrepreneurship and the commercial industrial space. In the social space, we are competing with poverty, underdevelopment, and inequality; we are not competing with an IBM or a Google for market share. So, if you have to create a competitive advantage against poverty, you have to collaborate with other players. Collaboration is the key to create impact in a resource constrained setting."
Raj Melville, Executive Director of the Deshpande Foundation agreed and commented that new entrepreneurs will fall back on existing organizational structures. Melville explained that the real questions are, "How do I scale? How do I develop a solution that is meeting the needs of the people whose problem I am trying to solve? What is my social objective? And how can I provide the optimal product at low-cost? And from there, what type of structure makes sense to support this idea?"
The next day, the first ever Tata Center Conference showcased new and continuing projects supported by the MIT Tata Center for Technology and Design. The conference began with keynote speaker Dr. Ashok Khosla, Chairman of the Development Alternatives (DA) Group, the world's first social enterprise dedicated to sustainable development.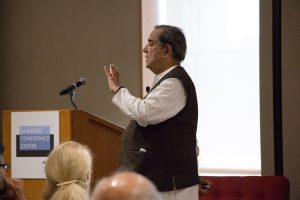 Khosla echoed Nilekani's sentiments and emphasized, "What the world needs right now is an approach that's open-ended, open-source, and relies on a platform that allows other people to generate more revenues through synergies."
Khosla continued to explain his mission: "It's about expanding value, varying that value to monetized products and services, and making the poor a little better off while renewing nature's health and capacity to support us…at the same time you have to have flexibility. You have to deal with products and clients in a way that they can match one another."
This sentiment was reflected later in presentations of Tata Center projects stemming from MIT graduate students' time spent in the field learning from the deep knowledge that end users and networks have accumulated on the ground. Based on those interactions, Tata Fellows have taken steps to develop their technology to match the needs of the people in India and other regions in the developing world.
A selection of Tata Fellows presented eleven projects with strong partnerships, including Rapid Diagnostic Tests for Zika, Dengue, and Chikungunya Viruses in India by postdoc Helena de Puig Guixé, Development of Low-Cost Water Filters Using Plant Xylem by PhD candidate Krithika Ramchander, EcoBLAC: Sustainable Masonry from Industrial Biomass Ash by PhD Candidate Hugo Uvegi, and The Reference Electrification Model: A Decision Support Tool to Enable Smart Electricity Access Planning by two of the team members, both Master's candidates, Matthew Brusnahan and Olamide Oladeji.
The Tata Center Conference wrapped up with lightning presentations on the Tata Center's newest energy, environment, health, housing, water, and agriculture projects by MIT researchers. Assistant Professor of Architecture as well as Civil and Environmental Engineering Caitlin Mueller presented on Low-Cost, Low-Carbon Structural Components for Housing in India, while Research Scientist from the Department of Mechanical Engineering, Emmanuel Kasseris, presented on A Modified Internal Combustion Engine to Eliminate Producer Gas Treatment and Greatly Reduce the Cost of Biomass to Power.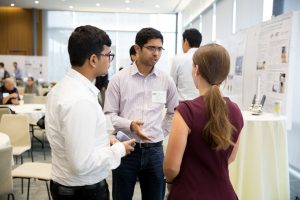 Shrashtant Patara, DA's Senior Vice President shared his organization's excitement over the growing relationship with the Tata Center: "….it is impossible for one organization [alone, like DA,] to keep a pipeline of innovations running that would actually address the extremely diverse range of needs that people have. We keep looking for new products, new technologies, and new ideas that could feed into the incubation and implementation work [at DA]."
There was consensus amongst the participants that social entrepreneurship in the developing world will require hybrid as well as complex models of non-profits and for-profits. Since private structures often attract capital, companies that began as non-profits have created for-profit entities to fund their non-profit innovation work and vice versa. These flexible models could benefit from symbiotic relationships across diverse sectors and countries and even help shape and fulfill their missions for widespread social impact.
The next Tata Center Symposium an Conference will be held in the fall of 2018 on September 27th and 28th.
Photos: Kelley Travers