One of the original Tata Fellows shares some of her favorite memories, travel advice, and what's in store for her future.
Katy Olesnavage is no stranger to MIT. After completing her Bachelor's here, Katy decided to stay on as one of the Tata Center's first Fellows in 2012 while she pursued her Master's. Eight years after she started, she is on track to graduate with a Bachelor's, Master's, and PhD, all from MIT.
One of Katy's earliest hobbies was mechanical engineering. Her first creation was a robot Halloween costume that included an electric switch that would light up transparency sheets reading "Trick or Treat" and "Thank You." She even made a tissue-box hovercraft powered by a shop vacuum cleaner and a shoebox car driven by a motor repurposed from her ballerina Barbie doll's twirling platform.
At MIT her inventions have included a modular, remotely operated underwater vehicle and an electromagnetic tissue damage measurement and feedback system that she produced as part of a student team for a chief surgeon at a Boston-area hospital. She also developed and deployed a system to pinpoint where precious fresh water was seeping into the ocean around the Mediterranean island of Cyprus, and served as a mechanical engineering intern on Google's Street View Hardware Team. When Katy is not inventing she enjoys cycling and is the current president of the 88-member MIT Cycling Club
Her Tata Center project focuses on designing a mass-manufacturable​, high-performance foot for amputees in the developing world in collaboration with the Jaipur Foot organization. Her advisor, Amos Winter, explains that Katy is not only "top caliber at crunching the numbers, but that she can go across the world to a village in India and understand the social factors that are going to be important behind the technology."
---
What are some things that you did not expect to do during your time at MIT?
I didn't expect to fall in love with India.
It really started on my second trip there, when I stayed for six weeks and got to know a lot of different people, and I don't think I expected that: to get so attached to the place all of a sudden. It's surprising, but great, when you recognize that somewhere so new and far away from home is a blast and that you can be really comfortable there.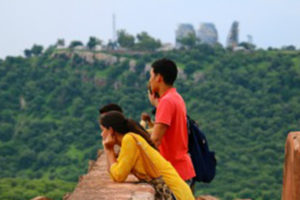 The amount of times that I've been offered opportunities to go abroad through the Tata Center and during my time at MIT is really amazing. I spent a month in Cyprus for my undergrad thesis, I got to go to Shanghai, I spent three months in England this past fall working with McLaren Applied Technologies, and this summer I'm going to conferences in South Africa and Finland! It's been such a cool experience to interact with people from across the world who have a completely different perspective.
What are some of your favorite Tata Center memories?
I have spent four consecutive birthdays in India, and the people I've gotten to know in Jaipur have made it really special. One year I had a translator for the project that I was working on, and the next year she showed up at my hotel on my birthday with a cake!
Another great memory was last summer when two of my friends, who were also Tata Fellows, got married in India. My entire lab was there, and we got to experience a full Indian wedding together.
If you could give advice to first-year Tata Fellow Katy, what would you tell her?
Spend as much time in India as possible, more for the experience than anything else. The people I've been working with at Jaipur Foot have so much experience–they've seen and heard it all. I initially expected to come in with fresh ideas but I quickly discovered that figuring out how to tap into their existing knowledge was invaluable.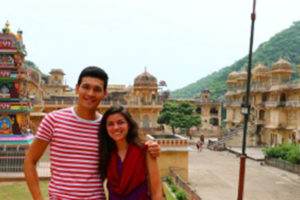 I would also tell other future Tata Fellows: It's fun to travel with friends but don't be afraid to travel alone. The strongest connections and relationships that I've built with people in India were made possible because I was traveling by myself. I paid better attention to local women in particular and learned a lot from following their lead. I think when you travel with other Fellows you're very much there and present, but you are still in a sort of bubble and are less likely to talk to everyone you happen to be around.
What's in store for you next, and what are you excited about?
I've accepted a job offer with SpaceX and will be joining the Crew Dragon program. I often get asked, "What does working with SpaceX or McLaren have to do with designing prosthetic feet in India?"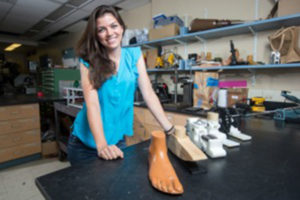 What I liked about the engineering that goes into F1 is that it's worth it to do the painstaking calculations to shave off a fraction of a second. In most industries, you can say, "OK, it's good enough, let's roll it through." But they care about the perfect solution and that's a perspective that I find relatable in designing prostheses. I got to apply high-end, billion-dollar engineering to making a $10 foot for people in India. That's the unique level of rigorous engineering that Tata Fellows apply to these projects oriented towards developing countries. I really like that, that's my favorite part.
Will you be returning to India in the future?
I've promised my friend Paul in Jaipur that I'll come back for both of his kids' weddings, so I will definitely be back for that. And my best friend Katie Taylor (CEO of Khethworks) is living there so I'd like to go visit her.
I'd like to think that the experience that I've gained with my work at the Tata Center will stay with me and that I'll have more cross-cultural opportunities. I don't know if I'll have another opportunity to work in India, but I'd love it if I did.