Graduate Science category swept by Tata Fellows at annual Mechanical Engineering competition.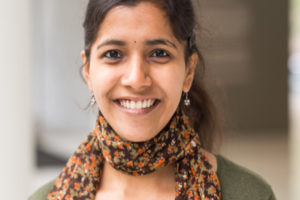 Tata Fellows Krithika Ramchander and Deepak Subramani were the two first place winners in the Graduate Science category at the De Florez Awards, an annual competition hosted by the MIT Department of Mechanical Engineering. The awards "are given to students demonstrating 'Outstanding Ingenuity and Creative Judgment' in areas that utilize mechanical engineering knowledge or practice," according to the competition's website.
Both Ramchander and Subramani also won Wunsch Foundation Silent Hoist and Crane Awards, which recognize the most outstanding graduate students in Mechanical Engineering.
Ramchander presented her work on low-cost water filtration system using xylem, a tissue from plants and trees that naturally removes contaminants. This research is targeted at remote communities in India, such as Himalayan villages, where access to clean drinking water is limited.
Subramani's project is on sustainable management of fisheries and other resources in India's coastal oceans. His ocean modeling system allows the government to provide the public with information and better manage its coastal assets.
There were strong showings by other Tata Fellows as well. Hilary Johnson and Sahil Shah earned third place awards in the Graduate Design category, Johnson for her braille-labeler device, and Shah for his home-scale electrodialysis desalination system. Maher Damak won third place in the Graduate Science category. His research deals with making agricultural sprays, such as pesticides, more efficient and safer for the environment.
Graduate Science Award
First Place
Krithika Ramchander
Deepak Subramani
Third Place
Maher Damak
Graduate Design Award
Third Place
Hilary Johnson
Sahil Shah